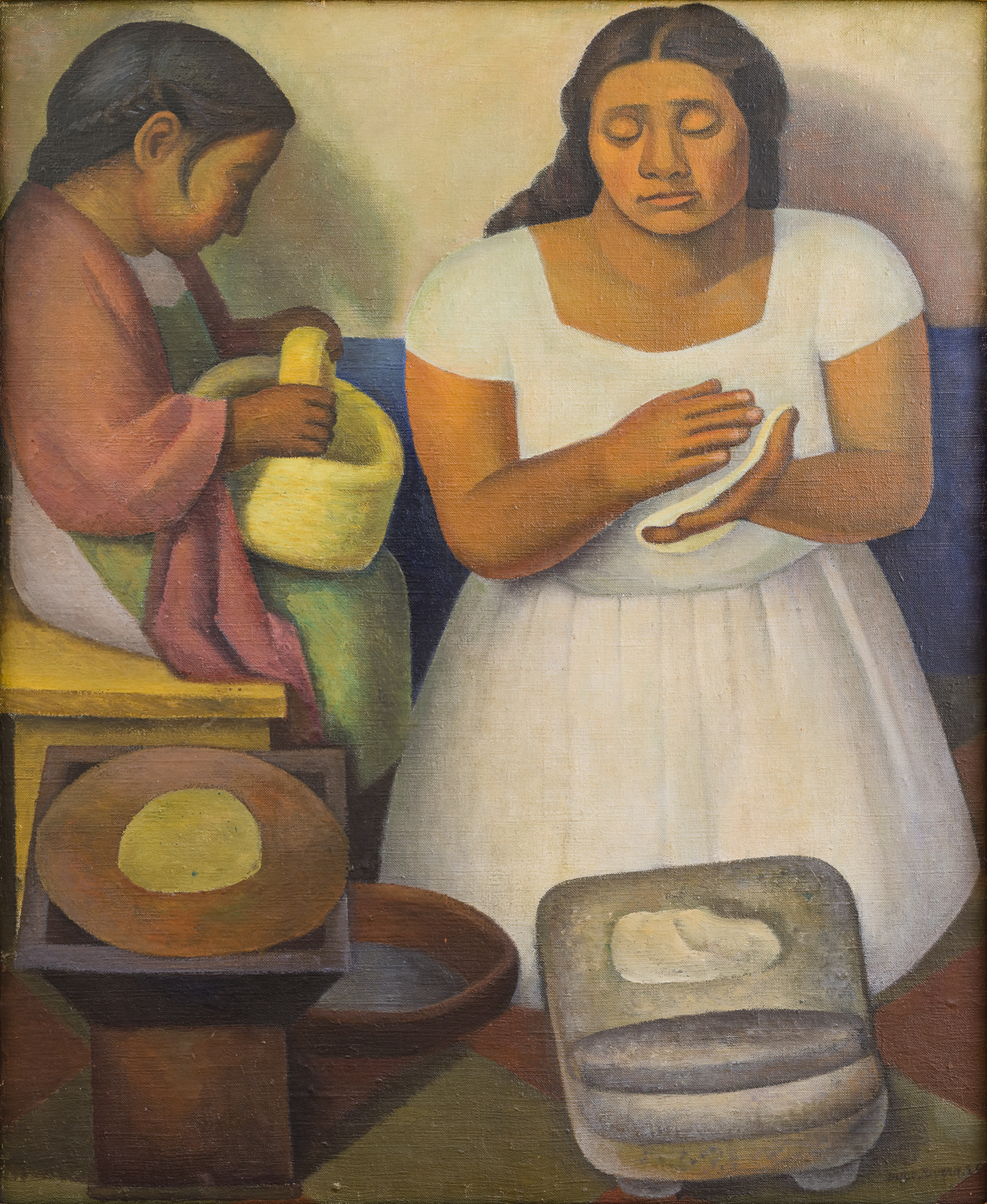 Zuckerberg San Francisco General Hospital and Trauma Center (ZSFG) is proud to house paintings by two famous artists, Diego Rivera and Frida Kahlo. Rivera's La Tortillera (1926) and Kahlo's Portrait of Dr. Leo Eloesser (1931) were donated to the University of California San Francisco with the stipulation that they be hung at the hospital where their original owner, the late thoracic surgeon Leo Eloesser, MD, served for 36 years. Both paintings moved to the lobby of the new hospital in 2015 (article).
Dr. Leo Eloesser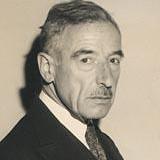 Born in San Francisco, Leo Eloesser (1881-1976) was a pioneering thoracic surgeon and innovator in the provision of rural and wartime health care. 
 After receiving his Medical Doctorate from the University of Heidelberg in 1907, Dr. Eloesser returned to San Francisco in 1910, did a clinical internship at SFGH, and joined the faculty of the Stanford Medical School in 1912, where he eventually became the Chief of the Thoracic Service of the Stanford University Division at San Francisco City and County Hospital.
 After World War One (in 1918-19), Dr. Eloesser served as Chief of Amputation and Orthopaedic Services at Letterman Hospital in San Francisco. He was known for his work among the poor and indigent, and, in 1935-36, he established the first Thoracic Surgery clinic in Russia. At the age of 56, working as a medic in the Spanish Civil War, he ran his own Mobile Surgical Hospital.
Following his retirement in 1945, Dr. Eloesser worked for the United Nations Rehabilitation and Relief Administration (UNRRA) and UNICEF, in various capacities related to the development of rural health care in China, including a term as director of the Bethune International Peace Hospital and Medical School in Hsi Ching (Yenan Province).
During his last years, in Tacamburo, Michoacan, Mexico, he continued his efforts to develop solutions to rural medical problems by using indigenous resources to combat the high incidence of tuberculosis and infant death, including support of teaching and surgical activities at the Sanitario de Huipulco, al Instituto Nacional de Enfermedades Respiratorias, and the establishment of a curriculum to train rural midwives.
A Friendship is Born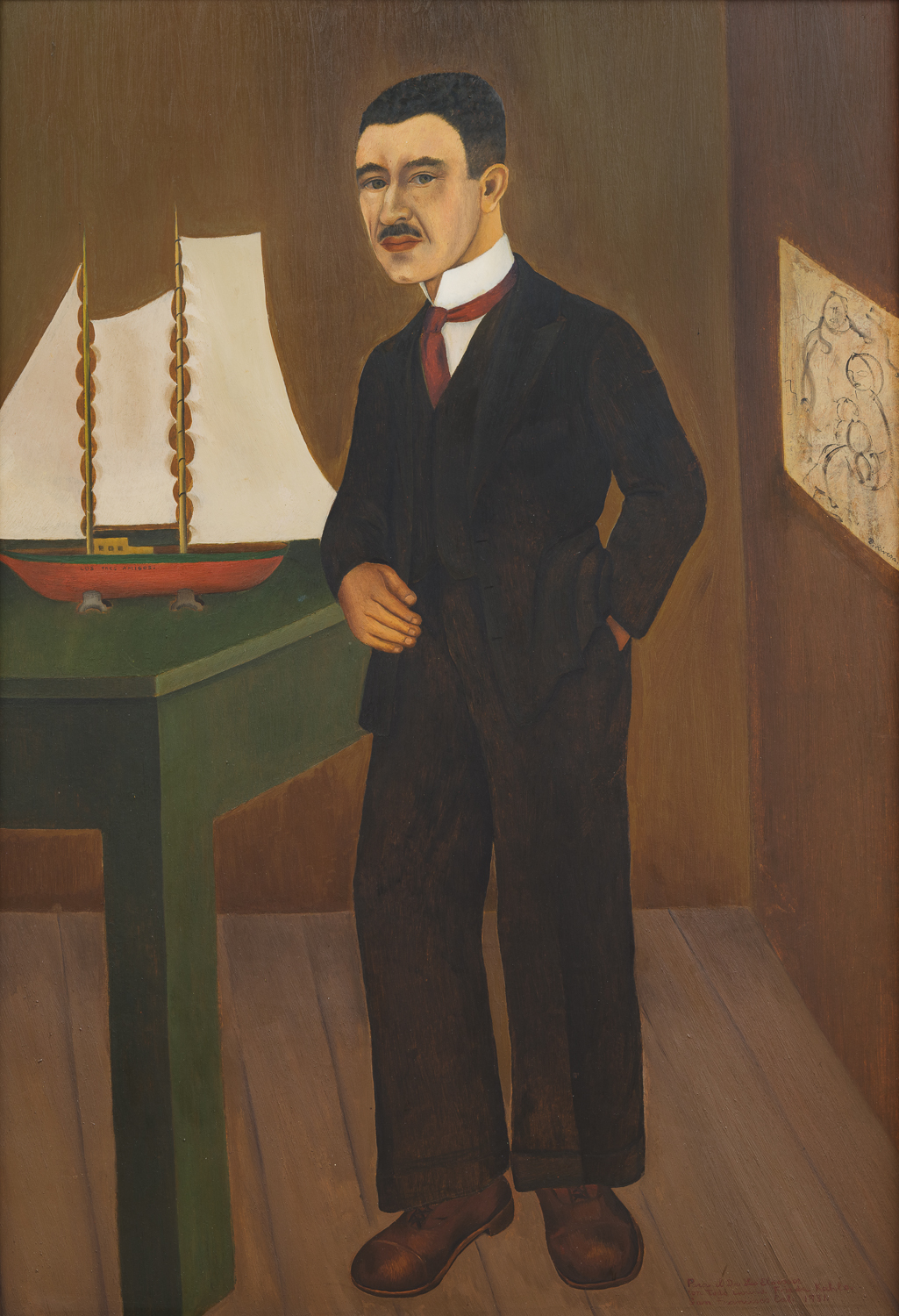 Dr. Eloesser first met Diego Rivera in 1926 and later came to know Frida Kahlo, who looked to him for medical advice and friendship for the rest of her life. Both Rivera and Kahlo lived and worked in San Francisco in 1930-31, and during their stay, Dr. Eloesser treated her for chronic medical problems she suffered as a result of an earlier bus accident that occurred in Mexico when she was a young woman.

As a token of their friendship, and to repay him for his service, Kahlo painted a portrait of Dr. Eloesser in 1931 at his home on Leavenworth Street. Executed in oil on masonite, it shows him standing beside a model sailing ship named "Los Tres Amigos." A small Rivera drawing hangs in the background. Rivera later gave Dr. Eloesser, "La Tortillera," an oil on canvas depicting a woman making tortillas.
The three remained close friends in the years that followed. Kahlo wrote regularly to Dr. Eloesser, requesting his advice in letters addressed to her dear "doctorcito." 
Some years later, Dr. Eloesser presented Kahlo's portrait to a good friend, Carlton Mathewson, MD, UCSF clinical professor emeritus of surgery, who in 1968 donated it to UCSF with the provision that it permanently remain hanging at SFGH. In 1975 Dr. Eloesser gave "La Tortillera" to the University with the same stipulation.
The paintings occasionally go on tour and have been to Mexico, Italy, Germany, across the US and in local exhibitions. Supporting temporary exhibitions by loaning these important paintings allows the public access to works of art that would not otherwise be seen by a large, diverse audience. For example, The Portrait of Dr. Leo Eloesser gives viewers an understanding of Frida Kahlo, her medical journey and her relationship with the medical community, helping viewer connect the artwork with their own lives and experiences. Both paintings are currently on loan to the San Francisco Museum of Modern Art for their exhibition, Diego Rivera's America.