The Research Protocol Application should be submitted by all researchers using SFDPH resources or conducting research at SFDPH, including ZSFG.
A UCSF Research at SFDPH Protocol Application is required for all research where researchers will:
Enroll patients at an SFDPH site, including ZSFG
Use SFDPH (ZSFG) patient data, including but not limited to EPIC data (even if you are only collecting names and numbers)
Use SFDPH (ZSFG) personnel, resources, facilities, space (even if it is your own office)
With the implementation of the SFDPH Epic Electronic Health Record, SFDPH IT Data Governance requires that all related data sharing policies are aligned. The research protocol application has been revised to clarify research workflows involving SFDPH data and include additional approvals at ZSFG, UCSF, and SFDPH. Additional changes include:
Streamlining and transparency of workflows
Pre-submission approvals and additional questions to reduce barriers and questions during final approval stage
The SFDPH Research Proposal Approval Form is now included in the UCSF Research at SFDPH Protocol Application. IRB submission and approval precedes the protocol application approval process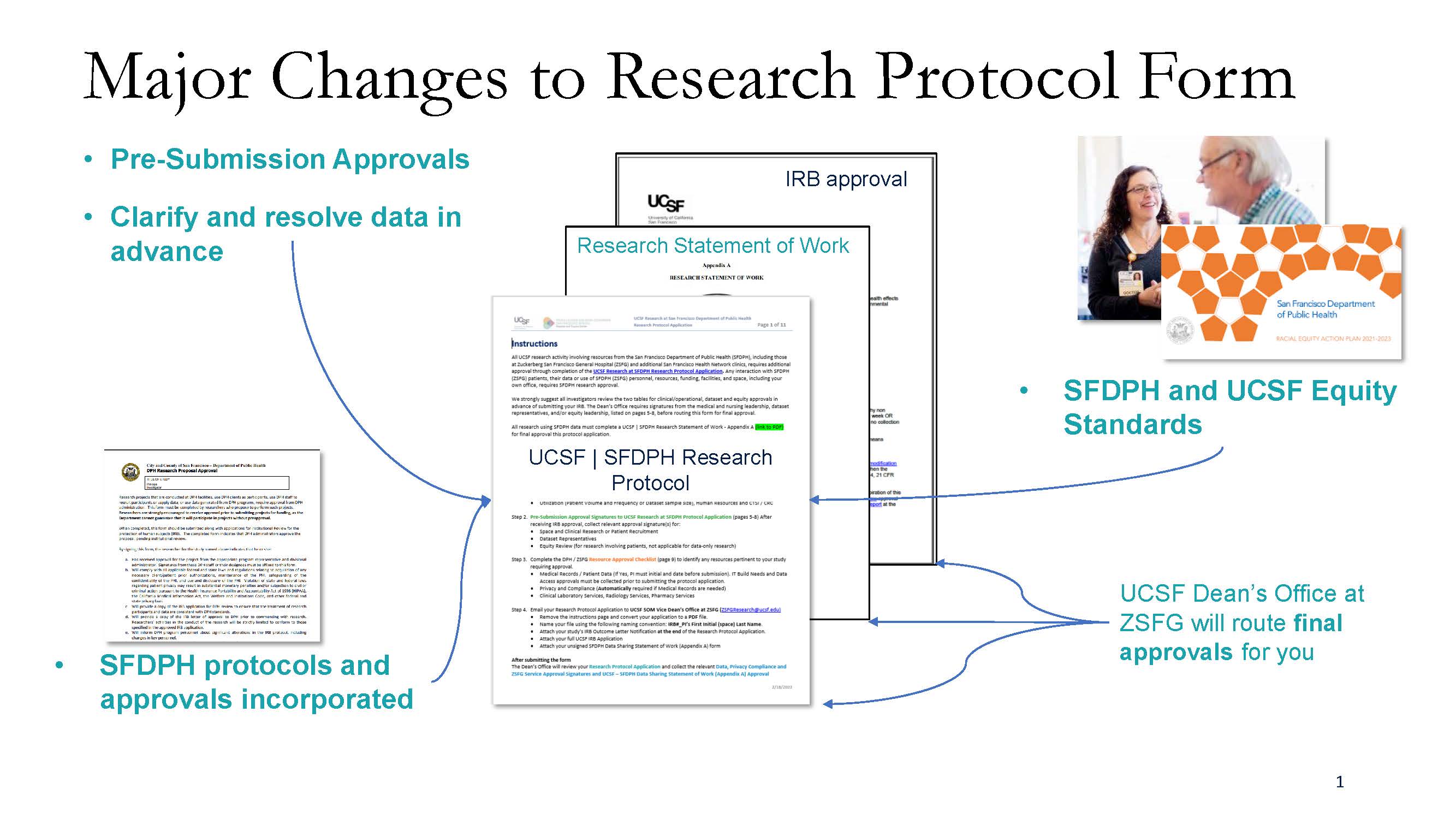 ---
Email required documents to: 
UCSF Research at SFDPH Protocol Application
UCSF IRB Approval Letter
UCSF IRB Application
UCSF | SFDPH Research Statement of Work (Appendix A)             
The PI's DocuSign signature is required on the bottom of page 3
Questions or Contacts?
Questions, changes to approver contact information, or to be added to the ZSFG Research distribution list, contact

[email protected]

 
---
FAQs Accessing Identified EHR Data for Research at UCSF
The UCSF Clinical and Translational Science Institute (CTSI) and Population Health Data Initiative (PHDI) support efforts to provide data and other resources for researchers at UCSF. We developed the following FAQs Accessing Identified EHR Data for Research at UCSF to guide researchers interested in accessing identified patient data for projects at UCSF Health or in the San Francisco Health Network. If you have any questions about this FAQ, please contact [email protected] 
---
ZSFG Services for UCSF Research at SFDPH Protocol Application
(Forms pertaining to the different services are provided below.  Such forms are required to be submitted to the various departments before submission of the Research Protocol Application) 
Radiology Services (Including Data Retrieval)
Laboratory Medicine Services